Research and development of non-destructive inspection method for pipes.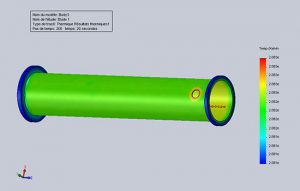 Most of the metallic pipes that are used in plant facilities suffer from internal corrosion that reduce their wall thickness leading to accidents and troubles so it is necessary to inspect those regularly. Pipes in high places or in places with difficult access can not be inspected easily leading to an increase of the time and cost needed.
To address those problems, we are pursuing research and development of a new sensor that can be used to estimate thinning inside pipes from a remote place.
We have already developed a new theory and tested it successfully. We are now continuing our research for this new technology to be commercializable.
【Method】
Measurement on the surface of the pipe with an infrared camera
Numerical analysis of the acquired data
Analysis of the numerical analysis results to determine presence or absence of thinning