Unmanned construction by remotely controlled heavy machinery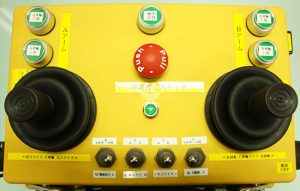 A camera and a radio control system are installed on a heavy equipment for it to be controlled remotely by wireless image transmission.
Workers can operate the machinery from a safe location through the radio control system. As a result, workers are able to proceed work even in harsh environment where there is a life-threatening risk of pyroclastic / debris flow.
This system can be use for recovery activities on disaster sites such as location which suffered from volcano eruption or earthquake.