Maintenance area intrusion detection equipment [NioH]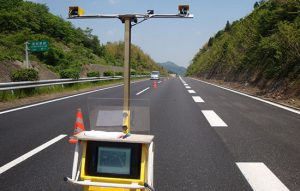 On the highway, every year about 120 accidents occur caused by vehicles entering a lane currently under maintenance. About 50 maintenance workers are killed or injured annually. [NioH] constantly measures the three-dimensional position of all incoming vehicles travelling at high speed (detection up to 300 meters) and immediately detects vehicles entering the lane under maintenance. Upon detection, all present workers are wirelessly instructed for a prompt evacuation through a device built-in their helmets.
【Details】
The detection range is 300 meters from [NioH] position
Detection of all vehicles in the field of view.
Once a vehicle is detected, it is constantly tracked until they disappear from [NioH]'s field of view.
The vehicle detection area is automatically set from the road characteristic.
Curved and sloped roads are supported.
The vehicle detection area can be manually edited on the system touch panel.
Low-speed running vehicle (for example maintenance vehicles) within the detection area are intentionally ignored.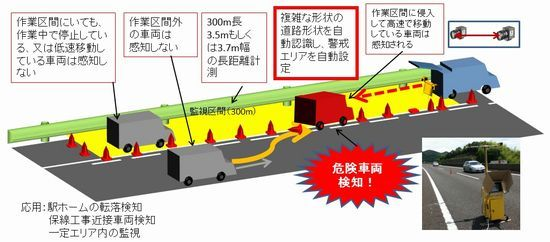 Customer's voice (NEXCO Maintenance Kansai Co., Ltd.)
Chinougijutsu Co., Ltd. has unique skills in the development of devices, robots, sensors, etc. and is the type of company which can just quickly produce a complete implementation. They are able to uncover young yet powerful various technologies and combine them to create a cutting-edge new technology.